Soft Drinks
We offered several soft drinks at the party: butterbeer, pumpkin juice, polyjuice potion, and gillywater (also used as a mixer for some of the alcoholic drinks).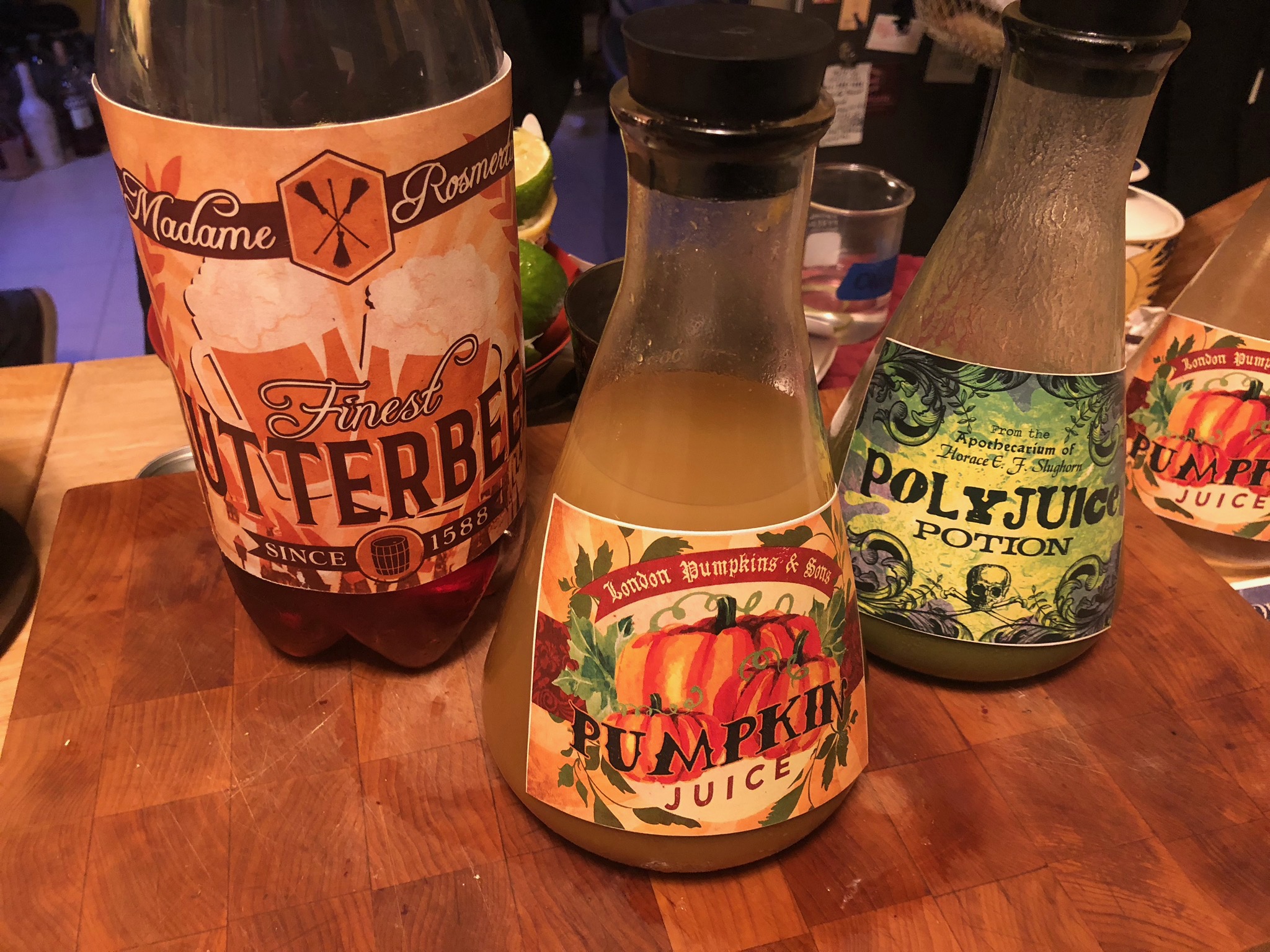 Butterbeer
The butterbeer recipe came from https://www.favfamilyrecipes.com/butterbeer/ and looks a bit like the following. We found the sweetness overpowering, so cut out the sugar from the cream topping.
The label came from this Etsy store: https://www.etsy.com/listing/540947092/butterbeer-large-printable-label-725-x
Ingredients
2 liter bottle of cream soda chilled
1/4 tsp caramel extract
1/4 tsp butter extract
For the Cream Topping:
1 cup heavy whipping cream
1/2 cup butterscotch topping
1/4 cup powdered sugar
Directions
In large mixing bowl, whip heavy cream until it forms stiff peaks.
Add butterscotch topping and powdered sugar.
Mix the caramel and butter extracts with the cream soda and then pour the mixture into clear cups or mugs.
Top with butterscotch cream topping and enjoy!
Pumpkin Juice
The Pumpkin Juice recipe came from http://www.inliterature.net/food-in-literature/2014/05/copycat-harry-potter-pumpkin-juice-recipe.html and looks like the following.
The label came from this Etsy store: https://www.etsy.com/listing/592121230/wizard-pumpkin-juice-printable-labels?ref=related-1
Ingredients
Actual 'pumpkin juice'

half of a butternut squash
2 cups water

Harry Potter Pumpkin Juice

1.25 cup pumpkin juice
3 cups apple juice
1/2 cup apricot nectar
1/2 tsp vanilla essence
2 tsp pumpkin pie spice
1/2 cup sugar
Directions
Start by placing your half a pumpkin or squash in a baking tray lined with a layer of water. Roast for approx 40 minutes at 180C until soft when fork is pressed in.
Remove from oven, cool and remove skin.
In a blender, combine the squash and water and blend. You can also put the pumpkin through the juicer, following it with water (putting just the pumpkin through does next to nothing).
In a saucepan, combine the 1.25 cups of the pumpkin juice with the apple juice, apricot nectar, vanilla essence, 2 tsp pumpkin pie spice and sugar. Bring to a boil then reduce to a simmer for 20-30 minutes.
The whole point of this? By simmering you'll be reducing the water so it'll have a more concentrated taste and will help the spices infuse with the juices, which plays a big part in the taste.
Chill and serve (although served hot is wonderful too!)
Polyjuice Potion
Polyjuice potion was just a "green" juice from the grocery store — something like Superfood or Green Machine should do. I find it delicious, but others have other opinions on the matter. When packaged as one of the most disgusting-tasting potions in the Harry Potter universe, it can push you down the path of negative bias.
The label came from this Etsy store: https://www.etsy.com/listing/592120628/wizarding-polyjuice-potion-large?ref=related-1
Gillywater
Gillywater was just freshly carbonated water from the SodaStream. The label came from this Etsy store: https://www.etsy.com/listing/592063622/gilly-water-printable-water-bottle?ref=related-5